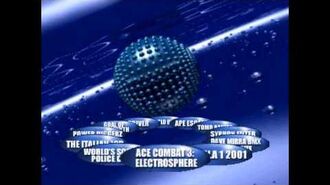 Overview
Edit
The 74th issue of OUKPSM. Released in August 2001.
Interface Info
Edit
Interface Background: Spike Ball (Blue)
Number of Icons: 12
Selection Style: Multi (L/R, B)
Background Music: #7 (2000-2004, Harry Holmwood, Jason Page)
Playables
Edit
Ace Combat 3: Electrosphere
Ape Escape
Dave Mirra Freestyle BMX Maxium Remix
Driver
Formula One 2001
In Cold Blood
Syphon Filter
Tomb Raider
Power Diggerz
The Italian Job
World's Scariest Police Chases
The first demo to have a 'Goal of the Month' video.
Ad blocker interference detected!
Wikia is a free-to-use site that makes money from advertising. We have a modified experience for viewers using ad blockers

Wikia is not accessible if you've made further modifications. Remove the custom ad blocker rule(s) and the page will load as expected.