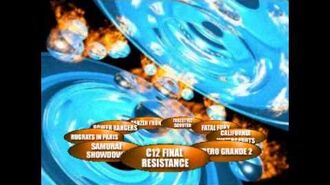 Overview
Edit
The 70th issue of OUKPSM. Released in April 2001.
Interface Info
Edit
Interface Background: Fire Bubbles (Blue)
Number of Icons: 9
Selection Style: Multi (L/R, B)
Background Music: #7 (2000-2004, Harry Holmwood, Jason Page)
Playables
Edit
C-12: Final Resistance
Libero Grande International
California Watersports
Fatal Fury: Wild Ambition (Cancelled PAL release)
Freestyle Scooter
Panzer Front
Power Rangers
Rugrats in Paris
Samurai Shodown: Warriors Rage (Cancelled PAL release)
This (along with #69) has the most videos than playables.
This disc includes videos for the cancelled PAL releases of Fatal Fury: Wild Ambition and Samurai Shodown: Warriors Rage, which were scheduled for release in May, until they were inevitably cancelled likely due to the publisher JVC suffering financial troubles before release.
Ad blocker interference detected!
Wikia is a free-to-use site that makes money from advertising. We have a modified experience for viewers using ad blockers

Wikia is not accessible if you've made further modifications. Remove the custom ad blocker rule(s) and the page will load as expected.