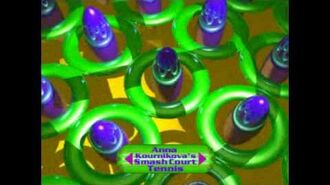 Overview
Edit
The 48th issue of OUKPSM. Released in August 1999.
Interface Info
Edit
Interface Background: The Cones (Yellow)
Number of Icons: 10
Selection Style: Single (L/R, B)
Background Music: #6 ('99-2000, Harry Holmwood, Jason Page)
Playables
Edit
Aironauts
Anna Kournikova's Smash Court Tennis
Command & Conquer (PLATINUM) (Icon labels it as Red Alert, but it is the original)
Croc 2
Omega Boost
Total Drivin' (PLATINUM)
Speed Freaks
Kingsley's Adventure
Prince Naseem Boxing
Net Yaroze
Edit
Opera of Destruction
Time Slip
This is the only time (along with #49) when Net Yaroze returns for a short while.
This is the last demo in the 40 series, that Adam owned.
Despite Total Drivin' labeled PLATINUM, there are no Platinum copies of the game in existence. It appears that a PLATINUM re-release of the game was planned, but was then canned for unknown reasons.