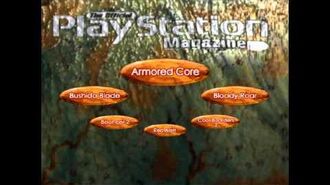 Overview
Edit
The 30th issue of OUKPSM. Released in March 1998.
Interface Info
Edit
Interface Background: OPSM Advert
Number of Icons: 6
Selection Style: Multi (L/R, M)
Background Music: #2 ('95-'99, Harry Holmwood)
Playables
Edit
Armored Core
Bloody Roar
Cool Boarders 2
Command & Conquer: Red Alert
Net Yaroze
Edit
Bouncer 2 (early version)
The founder's favorite Demo Disc overall, next to #42, (Cool Boarders 2, Bloody Roar), he ignores Red Alert though.