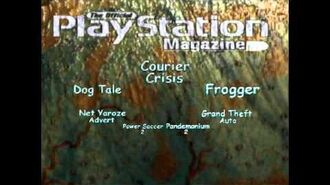 Overview
Edit
The 28th issue of OUKPSM. Released in January 1998.
Interface Info
Edit
Interface Background: OPSM Advert
Number of Icons: 7
Selection Style: Multi (L/R, M)
Background Music: #2 ('95-'99, Harry Holmwood)
Playables
Edit
Adidas Power Soccer 2
Courier Crisis
Frogger
Grand Theft Auto
Pandemonium 2
Net Yaroze
Edit
The Courier Crisis demo is hated by the founder and Adam himself, making it one of the worst demos on a demo disc ever put.