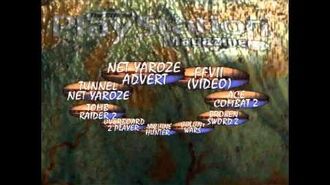 Overview
Edit
The 26th issue of OUKPSM. Released in December 1997.
Interface Info
Edit
Interface Background: OPSM Advert
Number of Icons: 9
Selection Style: Multi (L/R, M)
Background Music: #2 ('95, '99, Harry Holmwood)
Playables
Edit
Ace Combat 2
Broken Sword II: The Smoking Mirror
Colony Wars
Machine Hunter
Overboard! (two-player demo)
Tomb Raider II
Net Yaroze
Edit
Tunnel (Between The Eyes Beta)
This is the time that Net Yaroze has been introduced as a playable homebrew. The game also doesn't start with the Net Yaroze BIOS.
Ad blocker interference detected!
Wikia is a free-to-use site that makes money from advertising. We have a modified experience for viewers using ad blockers

Wikia is not accessible if you've made further modifications. Remove the custom ad blocker rule(s) and the page will load as expected.