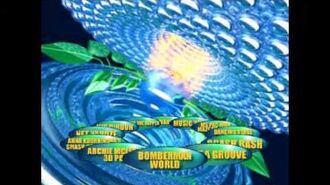 Overview
Edit
The 108th issue of OUKPSM. Released in March 2004.
Interface Info
Edit
Interface Background: Fire Bubble Formation (with leaves, Blue)
Number of Icons: 12
Selection Style: Multi (L/R, B)
Background Music: #7 (2000-2004, Harry Holmwood, Jason Page)
Playables
Edit
Anna Kournikova's Smash Court Tennis
Archer Maclean's 3D Pool
Bomberman World
Bust-a-Groove
Crash Bash
Dancing Stage Fever
Ms. Pac-Man Maze Madness
Music 2000
Pipe Mania 3D
PaRappa the Rapper
Vib-Ribbon
Net Yaroze
Edit
Adventure Game
Area
Git
Decay
Bouncer 2
Blitter Boy
Down
Gravitation (v1.3)
INVS
Pushy 2B
Robot Ron
Roller
Samsaric Asymptote
Shroud
Snowball Fight
Super Bub Contest
Tanx
Time Slip
Total Soccer Yaroze
Yarozians
This is the last issue of OUKPSM.
The final demo disc released for the original PlayStation in all regions.
This has got the biggest Net Yaroze compilation ever.