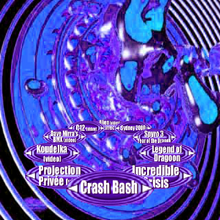 Overview
Edit
The 1st disc of the EEE Volume 4 series. Released in 2016/2017.
Interface Info
Edit
Interface Background: Plasma Fountain (X Blue/Violet)
Number of Icons: 13 (extended)
Selection Style: Single (L/R, B)
Background Music: #E3 (2016, Eryk Minkowski)
Playables
Edit
Excalibur 2555 AD
Forsaken
Robotron X
Rage Racer
Spider
Agent Armstrong
Kurushi
Jumping Flash!
Croc
Tomb Raider 2
Riot
Battle Arena Toshinden 2
Puyo Puyo Sun (IMPORT)
There are mostly games from the 20/30 series, some of them are classics (Jumping Flash!, BAT2).
The BGM has got an easter egg at the 46 second about the preference of playing the music that says
"This should be played at high volume, preferably in a residential area."
The Volume 4 in addition has got imports from America and Japan. Each demo disc has got one.