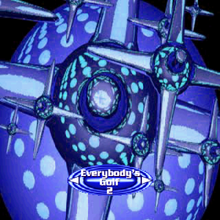 Overview
Edit
The 1st disc of the unofficial essentials series with games picked by the founder for the 20th Anniversary of OPSM. Released in 2016.
Interface Info
Edit
Interface Background: The X-Wings (X Dark Blue)
Number of Icons: 12
Selection Style: Single (L/R, B)
Background Music: #E2 (2016, Eryk Minkowski)
Playables
Edit
Mr. Domino
Fluid
Tomb Raider (PLATINUM)
Circuit Breakers (add-on disc)
Total Drivin'
Dynasty Warriors
Psybadek
Rosco McQueen
Armored Core
Spyro the Dragon
Oddworld: Abe's Oddysee
PaRappa the Rapper
Most titles are from the 20 and 30 series, except the original Tomb Raider.